New Products
---

Here you will find a list of new products we have added to our program:
VMHT news
Motorized turret for 2 indentors
and 4 objectives.
All instruments can be optionally equipped
with this 6x turret.
This enables the VMHT to do Vickers and Knoop
respective Brinell indentations without changing
the indentor.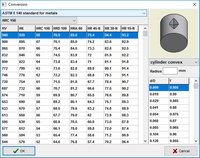 Flexible conversion tables and radius correction

The new versions of our hardness testing
applications for VMH-002 to VMH-I04
are supporting now the usage of editable
conversion tables (Standard ASTM E 140:
HV, HK, HRC 150, HRD 100, HRA 60,
HR 45-N, HR 30-N, HR 15-N).
The curvature / radius of the specimen surface
can be considered now, by using a radius
correction table accodring to ISO 6507-2.



Scanning and graphical definition
of the indentation pattern with VMH-I04

Single or multiple specimen can be scanned in special holders (accessory) with low magnification.
Various indentation patterns can be graphically defined within the stiched image after the scan by mouse.

The testing results can be shown as color chart in the graphic.
Detailed informations:
VMHT brochure download...

---
Camera adaptor MS1-MFT and MS1-CX
For attachment of digital system cameras to our portable measuring microscope MS1.

MS1-MFT: Adaptor C-Mount to "Micro Four Thirds" bayonet, for Olympus and Panasonic system cameras with MFT sensor (Olympus EP and OM-D, Panasonic Lumix DMC-G).
MS1-CX: Adaptor C-Mount to "Nikon 1" bayonet, suitable for Nikon system cameras with CX-sensor (series S, J, V and AW).
Further information:
see -> Measuring Microscope MS1

---